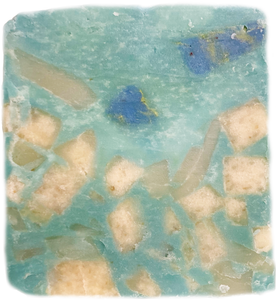 HANDMADE PREMIUM SOAPS
ALL ORGANIC ATLANTIS BLUE LOTUS SOAP BAR

ENGLISH: Time to ditch those toxic plastic bottles in your shower: mamaloha's handmade novelty for a plastic-free lifestyle: premium all-organic ROSENGERANIE BOURBON BARS: Formulated for full-body PREMIUM rehydration, added extra volume and cleanse. Our BLUE LOTUS SOAP BAR list of ingredients couldn't be more exiting: full cleansing power with organic BLUE LOTUS ABSOLUE OIL, mamaloha organic cold pressed moringa oil, mamalohas hydrating 200:1 aloe vera extract and the VERY hydrating and anti-aging agent tremella mushroom extract (full of hyaluronic acid - yes that very skin hydrating ingredient used in most expensive hydrating anti-aging cremes!). All mamaloha soaps are made of premium organic oils, organic butters, natural mica powders and organic essential oils. Aloha from mamaloha!

DIRECTIONS: Natural soap for external use only. Avoid eye contact. Discontinue use if irritation occurs. For longer soap life, keep dry between uses and store at room temperature.


DEUTSCH: Es ist Zeit, diese giftigen Plastikflaschen in deiner Dusche loszuwerden: Mamalohas handgefertigte Neuheit für einen plastikfreien Lebensstil: Premium BLAUER LOTUS MORINGA Seife mit Inhaltsstoffen aus rein biologischem Anbau: Formuliert für die PREMIUM-Rehydrierung des gesamten Körpers, zusätzliches Volumen und Reinigung. Unsere BLUE LOTUS SOAP BAR Zutatenliste könnte spannender nicht sein: Volle Reinigungskraft mit BIO BLUE LOTUS ABSOLUE OIL, mamaloha kaltgepresstem Bio-Moringaöl, mamaloha feuchtigkeitsspendendem 200:1 Aloe Vera Extrakt und dem SEHR feuchtigkeitsspendenden und Anti-Aging-Wirkstoff Tremella Pilzextrakt (voller Hyaluronsäure – ja genau dieser hautfeuchtigkeits-spendende Inhaltsstoff, der in den teuersten feuchtigkeitsspendenden Anti-Aging-Cremes verwendet wird!). Alle Mamaloha-Seifen werden aus hochwertigen Bio-Ölen, Bio-Butter, natürlichem Glimmerpulver und ätherischen Bio-Ölen hergestellt. Aloha von Mamaloha!

ANWENDUNG: Natürliche Seife, nur äusserlich anwenden. Augenkontakt vermeiden. Bei Reizungen die Anwendung abbrechen. Für längere Lebensdauer der Seife zwischen den Anwendungen trocken aufbewahren und bei Raumtemperatur aufbewahren.


INGREDIENTS INCI: INGREDIENTS INCI: AQUA, ORGANIC OLEA EUROPAEA FRUIT (OLIVE) OIL, ORGANIC COCOS NUCIFERA (COCO- NUT) OIL ORGANIC BUTYROSPERMUM PARKI (SHEA) BUTTER, SODIUM HYDROXIDE, ORGANIC THEOBROMA (CACAO) SEED BUTTER, ORGANIC RICINUS COMMUNIS SEED OIL, ORGANIC TREMELLA FUCIFORMIS EXTRACT, ORGANIC ALOE (VERA) BARBADENSIS LEAF JUICE 200:1 EXTRACT, ORGANIC FRESH ALOE (VERA) BARBADENSIS LEAF JUICE, NATURAL MICA POWDER, ORGANIC POGOSTEMON CABLIN (PATCHOULI) ESSENTIAL OIL ,ORGANIC NYMPHAEA CAERULEA ABSOLUE OIL.

WEIGHT RANGE:  Each of mamalohas handmade premium bars is a unique piece of SOAP ART, each bar is numbered and the ATLANTIS BLUE LOTUS BARS weight from 138g to 180g.

GEWICHTSBEREICH: Jede handgefertigte Premium-Seife von mamaloha ist ein nummeriertes Unikat. Jede Seife ist einzeln abgewägt; die ATLANTIS BLUE LOTUS BARS wiegen zwischen 138g und 180g.