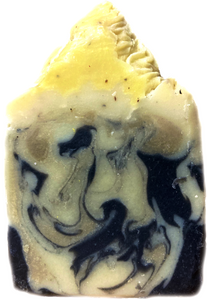 HANDMADE PREMIUM SOAPS
ALL ORGANIC PREMIUM PAPAYA PLAYA SOAP BAR

ENGLISH: DO NOT EAT!! Very intense scent of premium all-organic PAPAYA MIXED WITH CLEANSING CHARCOAL: WE CALL IT PAPAYA PLAYA. Formulated for full-body PREMIUM rehydration and cleanse. PREMIUM SUPERFAT SOAP WITH EXTRA COCOA & SHEA BUTTER CONTENT FOR PREMIUM HYDRATION. Aloha from mamaloha!

DIRECTIONS: Natural soap for external use only. Avoid eye contact. Discontinue use if irritation occurs. For longer soap life, keep dry between uses and store at room temperature.  


DEUTSCH: ACHTUNG! Nicht zum Essen geeignet! Riecht zum anbeissen! Premium Schokoladenseife mit hohem Superfett-Anteil (SHEA UND COCOA BUTTER) für Trockene Haut. Aloha von Mamaloha!

ANWENDUNG: Natürliche Seife, nur äusserlich anwenden. Augenkontakt vermeiden. Bei Reizungen die Anwendung abbrechen. Für längere Lebensdauer der Seife zwischen den Anwendungen trocken aufbewahren und bei Raumtemperatur aufbewahren.

INGREDIENTS INCI: AQUA,  ORGANIC COCOS NUCIFERA (COCONUT) OIL, ORGANIC THEOBROMA (CACAO) SEED BUTTER, ORGANIC THEOBROMA CACAO SEED BUTTER, ORGANIC EUROPAEA FRUIT (OLIVE) OIL, ORGANIC BUTYROSPERMUM PARKII (SHEA) BUTTER,  SODIUM HYDROXIDE, CHARCOAL POWDER, ORGANIC RICINUS COMMUNIS SEED OIL, ORGANIC CARICA PAPAYA SEED ESSENTIAL OIL.

WEIGHT RANGE:  Each of mamalohas handmade premium bars is a unique piece of SOAP ART, each bar is numbered and the PAPAYA PLAYA bars weight from 125g to 149g.

GEWICHTSBEREICH: Jede handgefertigte Premium-Seife von mamaloha ist ein nummeriertes Unikat. Jede Seife ist einzeln abgewägt; die PAPAYA PLAYA BARS wiegen zwischen min. 125 g und max. 149 g.