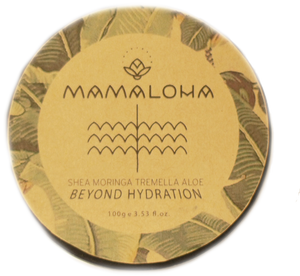 OUR BEYOND HYDRATION BODY BUTTER

THE LAST BODY BUTTER, SKIN MOISTURIZER / MASSAGE BUTTER YOU WILL EVER BUY!
ENGLISH:
BEYOND HYDRATION is used to thoroughly hydrate all layers of your skin! Organic Moringa Oil and Shea Butter are enriched with nanoenhanced Tremella mushroom extracts. Moringa Oil penetrates the deepest layers of our skin and is considered the mother of hydrating oils for skin hydration. Tremella is renowned since millenia for its very hydrating and anti-aging properties, and is the richest single natural source of Hyaluronic acid - yes that stuff in the expensive anti-aging cremes, that fill the wrinkles of the skin. The nanoenhanced process makes the Hyaluronic acid and the 200:1 Aloe Vera extracts very bioavailable for our skin. It lubricates our muscles, joints and especially the facial tissues and help to maintain a soft, glowing and hydrated skin and may even reduce skin wrinkles.

DIRECTIONS: Rub onto dry skin and stay out of the sun.
CAUTION: may strain your clothing ! Store can away from kids in a dry and cool place locked securely.
DEUTSCH: BEYOND HYDRATION wird verwendet bei trockener Haut. Moringa Öl und Shea Butter sind mit nano-verbesserten Tremella Extrakten und 200:1 konzentrierten Aloe Vera Extrakten angereichert. Moringa Öl penetriert die tiefsten Hautschichten und gilt als die Mutter aller hydrierenden Öle. Tremella wird seit Millenia wegen seiner hydrierender und anti-aging Eigenschaften beispielsweise in teueren Anti-aging Crèmes verwendet. Tremella ist sehr reich in Hyaloronsäure; sie befeuchtet unsere Muskeln und Faszien, speziell im Gesichtsbereich. Tremella verbessert die Hautelastizität, fördert eine weiche, strahlende und rehydrierte Haut und kann sogar Falten und Linien auf der Haut reduzieren.

ANWENDUNG: Reibe SHEA BUTTER auf trockene Haut ein.

WARNHINWEIS: Kann auf Kleider etc. abfärben. Geschlossene Dose ausserhalb der Reichweite von Kindern trocken und kühl lagern.

INHALT / CONTENT: INCI: ORGANIC BUTYROSPERMUM PARKII (SHEA) BUTTER, ORGANIC TREMELLA MUSHROOM EXTRACTS (TREMELLA FUCIFORMIS), ORGANIC MORINGA OLEIFERA SEED OIL, ALOE BARBADENSIS LEAF EXTRACT, TOCOPHEROL.

BEYOND HYDRATION is a true wizzard for your after-surf or after-snowboard skin: It's fatty components do have excellent anti-aging properties, do prevent and relieve symptoms of dry, sun-exposed skin & hair and nourishes them deeply. For best results use directly after surf applying while still wet from the shower and stay in the shade. Mamaloha organic Shea butter comes in a handy 100g matte black aluminium can and is refined without the use of any solvents. ALOHA!