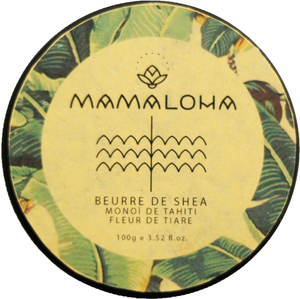 OUR MONOÏ SHEA BODY BUTTER

THE LAST BODY BUTTER, SKIN MOISTURIZER / MASSAGE BUTTER YOU WILL EVER BUY!
ENGLISH:
BEURRE DE SHEA - MONOÏ DE TAHITI, the Bodybutter / Massagebutter contains the rich secret of tropical beauty: FLEUR DE TIARE and Vanilla Seeds, it offers exclusive soothing, anti-inflamatory and healing properties native to the island paradise of Tahiti: Our unique combo of FLEUR DE TIARE mixed with TREMELLA EXTRACTS offer the next level of skin moisturizing, nourishing and hydrating: A unique combination of the richest natural source of Hyaluronic acid, that are used for its very remarkable anti-aging properties: lubricate our muscles, joints and facial tissues and help to maintain a soft, glowing and hydrated young skin. Tremella may help to look younger by reducing wrinkles and lines on our skin. Tremella is highly rehydrating and improving skin elasticity. Aloha from mamaloha!
DIRECTIONS: Rub onto skin and stay out of the sun.
CAUTION: may strain your clothing ! Store can away from kids in a dry and cool place locked securely.
DEUTSCH: Diese edle Bodybutter / Massagebutter veredelt mit Monoï Tahiti mit dem Geheimniss tropischer Schönheit: die Tiare Blüte. Tiare in Kombination mit dem Tremella Vitalpilz wirken beruhigend, entzündungshemmend und sehr hydrierend. Ausserdem bieten sie auch anti-aging Eigenschaften für unsere Haut. Tremella ist sehr reich in Hyaloronsäure; sie befeuchtet unsere Muskeln, Knochen und auch die Fasziengewebe. Tremella verbessert die Hautelastizität, fördert eine weiche, strahlende und rehydrierte Haut und kann  Falten und Linien auf der Haut reduzieren. 
ANWENDUNG: Reibe SHEA BUTTER auf deine Haut und halte dich im Schatten auf.  WARNHINWEIS: Kann auf Kleider etc. abfärben. Geschlossene Dose ausserhalb der Reichweite von Kindern kühl und trocken lagern.
INHALT / CONTENT: INCI: ORGANIC BUTYROSPERMUM PARKII (SHEA BUTTER), TREMELLA MUSHROOM EXTRACT POWDER (TREMELLA FUCIFORMIS), COCONUT (COCOS NUCIFERA) OIL. TIARE (GARDENIA TAHITIENSIS) FLOWER, VANILLA PLANIFOLIA SEED POWDER, TOCOPHEROL.
Mamaloha 100% organic shea butter is a true wizzard for your after-surf or after-snowboard skin: It's fatty components do have excellent anti-aging properties, do prevent and relieve symptoms of dry, sun-exposed skin & hair and nourishes them deeply. For best results use directly after surf applying while still wet from the shower and stay in the shade. Mamaloha organic Shea butter comes in a handy 100g matte black aluminium can and is refined without the use of any solvents. Enjoy the waves!