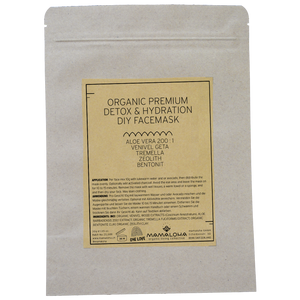 OUR DIY FACEMASK 30g

ORGANIC PREMIUM DETOX & HYDRATION
ALOE VERA 200 : 1
VENIVEL GETA
TREMELLA
ZEOLITH
BENTONIT
 
ENGLISH: APPLICATION: Per face mix 10g with lukewarm water and or avocado, then distribute the mask evenly. Optionally add activated charcoal. Avoid the eye area and leave the mask on for 10 to 15 minutes. Remove the mask with wet tissues, a warm towel or a sponge, and and then dry your face. May stain clothing.
DEUTSCH:
ANWENDUNG: Pro Gesicht 10g mit lauwarmem Wasser und oder Avocado mischen und die Maske gleichmäßig verteilen. Optional mit Aktivkohle anreichern. Vermeiden Sie die Augenpartie und lassen Sie die Maske 10 bis 15 Minuten einwirken. Entfernen Sie die Maske mit feuchten Tüchern, einem warmen Handtuch oder einem Schwamm und trocknen Sie dann Ihr Gesicht ab. Kann auf Textilien abfärben.

INGREDIENTS: INCI: ORGANIC VENIVEL WOOD EXTRACTS (Coscinium fenestratum), ALOE BARBADENSIS 200:1 EXTRACT, ORGANIC TREMELLA FUCIFORMIS EXTRACT, ORGANIC BENTONITE CLAY, ORGANIC ZEOLITH CLAY.