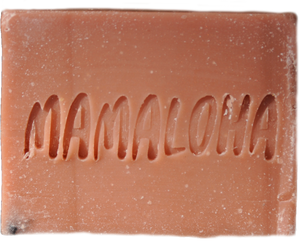 HANDMADE PREMIUM SOAPS
ALL ORGANIC PINK GRAPEFRUIT BAR

ENGLISH: Time to ditch those toxic plastic bottles in your shower: mamaloha's handmade novelty for a plastic-free lifestyle: premium all-organic PINK GRAPEFRUIT BARS: Formulated for full-body PREMIUM rehydration and cleanse. The list of ingredients couldn't be more exiting: full cleansing power with microsilver (yes real silver), mamalohas activated charcoal powder, effective microorganisms by em kraft and mamalohas  hydrating 200:1 aloe vera extract and the VERY hydrating tremella mushroom extract (full of hyaluronic acid - yes that very skin hydrating ingredient used in most expensive hydrating anti-aging cremes!). All mamaloha soaps are made of premium organic oils, organic butters, natural mica powders and organic essential oils. Aloha from mamaloha!

DIRECTIONS: Natural soap for external use only. Avoid eye contact. Discontinue use if irritation occurs. For longer soap life, keep dry between uses and store at room temperature.


DEUTSCH: Die Zeit ist reif die giftigen Plastikflaschen aus der Dusche zu verbannen: Mamalohas handgemachtes Novum für einen kunststofffreien Lebensstil: PREMIUM-BIO-PINK-GRAPEFRUIT-BARS: Entwickelt für eine Ganzkörper PREMIUM Rehydration und -Reinigung. Die Liste der edlen bio Inhaltsstoffe könnte nicht aufregender sein: volle Reinigungskraft mit Mikrosilber (ja echtes Silber), Aktivkohlepulver von Mamaloha, effektive Mikroorganismen von em kraft und 200: 1 Aloe Vera-Extrakt und das SEHR feuchtigkeitsspendende Tremella-Pilzextrakt (voller Hyaluronsäure - ja, genau dieser hautfeuchtigkeitsspendende Inhaltsstoff, der in den teuersten feuchtigkeitsspendenden Anti-Aging-Cremes verwendet wird!). Alle Mamaloha-Seifen bestehen aus hochwertigen Bio-Ölen, Bio-Buttern, natürlichen Mica farben und ätherischen Bio-Ölen. Aloha von Mamaloha!

ANWENDUNG: Natürliche Seife, nur äusserlich anwenden. Augenkontakt vermeiden. Bei Reizungen die Anwendung abbrechen. Für längere Lebensdauer der Seife zwischen den Anwendungen trocken aufbewahren und bei Raumtemperatur aufbewahren.


INGREDIENTS INCI: SILVER, AQUA, EFFECTIVE MICROORGANISMS, ORGANIC OLEA EUROPAEA FRUIT (OLIVE) OIL, ORGANIC COCOS NUCIFERA (COCONUT) OIL ORGANIC BUTYROSPERMUM PARKII (SHEA) BUTTER,  SODIUM HYDROXIDE, ORGANIC THEOBROMA (CACAO) SEED BUTTER,  ORGANIC CANNABIS SATIVA SEED OIL, ORGANIC RICINUS COMMUNIS SEED OIL, ORGANIC TREMELLA FUCIFORMIS EXTRACT, ORGANIC ALOE (VERA) BARBADENSIS LEAF JUICE 200:1 EXTRACT, NATURAL MICA POWDER, ORGANIC CITRUS PARADISI (GRAPEFRUIT) ESSENTIAL OIL.

WEIGHT RANGE:  Each of mamalohas handmade premium bars is a unique piece of SOAP ART, each bar is numbered and the PINK GRAPEFRUIT BARS weight from 135g to 156g.

GEWICHTSBEREICH: Jede handgefertigte Premium-Seife von mamaloha ist ein nummeriertes Unikat. Jede Seife ist einzeln abgewägt; die PINK GRAPEFRUIT BARS wiegen zwischen 96 g und 116 g.