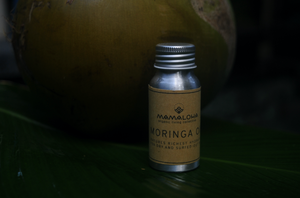 OUR MORINGA OIL

THE DEEP LAYER HYDRATION FOR DRY SKIN

ENGLISH: Mamaloha organic moringa oil is the richest oil for human skin and a true wizzard for your after-surf or after-snowboard skin: They protect your skin against free radicals, reducing the visible signs of aging, such as fine lines and wrinkles. Its antiseptic and anti-inflammatory properties even help improve acne prone skin.It's fatty components penetrate the deepest layers possible of our skin, do prevent and relieve symptoms of dry, sun-exposed skin & hair and nourishes them deeply. Powerful anti-aging properties are among the most appreciated benefits of Moringa Oil. For best results use directly after surf/snowboard applying while still wet from the shower and stay in the shade. Mamaloha organic Moringa Oil comes in a handy 40g aluminium jar and is refined without the use of any solvents.

DIRECTIONS: Rub onto skin and stay out of the sun.
CAUTION: may strain your clothing etc! Store jar away from kids in a dry and cool place locked securely.
DEUTSCH: Mamalohas organic Moringa Öl ist das reichte Öl für menschliche Haut, es ist ein wahrer Zauber für deine Haut nach dem Surf oder Snowboarden:  Die reichen rückfettenden Komponenten von Moringa Öl penetrieren unsere tiefst liegenden Hautschichten und beugen Symptome von trockener Haut (Sonnen-, Wind- und Kälte-exponiert) nachhaltig vor. Es ist antiseptisch und hat entzüdungehemmende Eigenschaften und kann sogar gegen Akne helfen. Dem Moringa Öl werden ferner anti-aging Eigenschaften nachgesagt, da es die Haut vor freien Radikalen schützt und die sichtbaren Alterserscheinungen wie feine Linien und Falten reduzieren kann.
Für beste Ergebnisse, Moringa Öl direkt nach dem duschen auf trockene Haut auftragen und im Schatten bleiben. Mamaloha organic Moringa Oil kommt in einer recyklierten 40g aluminium Flasche, fürs Reisen ideal.

ANWENDUNG: Reibe MORINGA OIL auf deine Haut und halte dich im Schatten auf. WARNHINWEIS: Kann auf Kleider etc. abfärben. Geschlossene Dose ausserhalb der Reichweite von Kindern kühl und trocken lagern. Nicht zu Verzehr geeignet.

INGREDIENTS INCI: COLD PRESSED ORGANIC MORINGA OLEIFERA SEED OIL