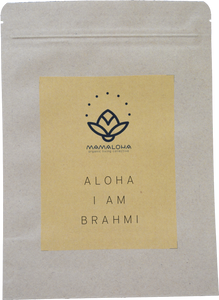 OUR BRAHMI - ORGANIC INDIAN HERB 100g POUCH
DEUTSCH: Brahmi ist ein Nahrungsergänzungsmittel mit Vitamin B12, es trägt zu einer normalen Funktion des Immunsystems bei. Es trägt zu einer normalen Funktion des Nervensystems und einem normalen Energiestoffwechsel bei. Ausserdem trägt Vitamin B12 zur Verringerung von Müdigkeit und Ermüdung und einer normalen Bildung von roten Blutkörperchen bei.

GEBRAUCHSANLEITUNG:
Täglich 1 g morgens in warmes Wasser, Kaffee oder einen Smoothie einrühren.

WEITERE HINWEISE: Nahrungsergänzungsmittel dienen nicht als Ersatz für eine abwechslungsreiche und ausgewogene Ernährung sowie gesunde Lebensweise. Die empfohlene Tagesdosis von 1 g darf nicht überschritten werden. Ausserhalb der Reichweite von kleinen Kindern aufbewahren.

ZUTATEN:  Organisches Brahmi Pulver (Bacopa monnieri), Vitamin B12.

Durchschnittliche Nährwerte           
---------------------------------------------          
                            pro 1 g   NRV*        

Vitamin B12      1.25 µg     50%
* % der Referenzmenge für Erwachsene

ENGLISH: Brahmi is a dietary supplement with Vitamin B 12,  it contributes to the normal functioning of the immune system. It contributes to the normal functioning of the nervous system and normal energy metabolism. Vitamin B12 also helps reduce tiredness and fatigue and normal red blood cell formation.

INSTRUCTIONS FOR USE: Stir 1 g daily in warm water, coffee or a smoothie.
MORE INFORMATION: Dietary supplements are not a substitute for a varied and balanced diet and a healthy lifestyle. The recommended daily dose of 1 g must not be exceeded. Keep out of reach of small children.

INGREDIENTS: Organic Brahmi powder (Bacopa monnieri), Vitamin B12.

 Average nutritional values
---------------------------------------------
                              per 1 g   NRV*

Vitamin B12       1.25 µg     50%
* % of reference quantity for adults