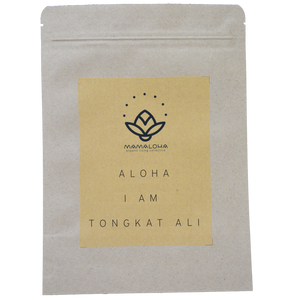 OUR TONGKAT ALI

WILD HARVESTED BORNEO MAN POWER

DEUTSCH: Direkt aus den wilden Jungeln von Borneo: Wildgesammelter Tongkat Ali, auch "Long Jack" genannt ist eines der besten Funktional-Heilkräutern auf dem Planet: Alles in einem: adaptogen, erogen, androgen und anabolisches Kraut, welches traditionell auch als "anti-aging" Heilmittel verwendet wird. Bei diesem Tongkat Ali handelt es sich um roten Tongkat Ali aus Wildsammlung: Nur der rote Teil der Wurzel wird verwendet und der weisse Teil wird wieder gepflanzt. Der rote Tongkat Ali gilt als höchste und purste Qualität. Beutel à 100g.

ENGLISH:  Straight out of the Wild Borneo Jungle: Wildharvested Tongkat Ali, also known as Long Jack and is one of the best functional herbs on the planet: It is all in one: adoptogenic, ergogenic, androgenic and also an anabolic herb that is traditionally also used as an "anti-aging" remedy. Our Tongkat Ali is wild harvested directly in the Jungles of Borneo. It increases man power like nothing else. Wild grown red Tongkat Ali is the most potent and pure quality available. Only the red part of the root is collected and the white part is replanted again. It is used to boost masculine energy, enhances sexual potency and boosts libido. It is cherished by athletes for its effects of increased testosterone levels, that help to build stronger muscles and burn excess fats.  Long story short:  and modern supplements are intended to improve libido, energy, sports performance and weight loss. ALOHA FROM MAMALOHA! Comes in a handy 100g Pouch.


DEUTSCH: Tongkat Ali ist ein Nahrungsergänzungsmittel mit Vitamin B12, es trägt zu einer normalen Funktion des Immunsystems bei. Es trägt zu einer normalen Funktion des Nervensystems und einem normalen Energiestoffwechsel bei. Ausserdem trägt Vitamin B12 zur Verringerung von Müdigkeit und Ermüdung und einer normalen Bildung von roten Blutkörperchen bei.

GEBRAUCHSANLEITUNG:
Täglich 1 g morgens in warmes Wasser, Kaffee oder einen Smoothie einrühren.

WEITERE HINWEISE: Nahrungsergänzungsmittel dienen nicht als Ersatz für eine abwechslungsreiche und ausgewogene Ernährung sowie gesunde Lebensweise. Die empfohlene Tagesdosis von 1 g darf nicht überschritten werden. Ausserhalb der Reichweite von kleinen Kindern aufbewahren.

ZUTATEN:  Borneo Tonkat Ali Pulver aus Wildsammlung (Eurycoma longifolia) (Pasak Bumi), Vitamin B12.

Durchschnittliche Nährwerte           
---------------------------------------------          
                            pro 1 g   NRV*        

Vitamin B12      1.25 µg     50%
* % der Referenzmenge für Erwachsene

ENGLISH: Tongkat Ali is a dietary supplement with Vitamin B 12,  it contributes to the normal functioning of the immune system. It contributes to the normal functioning of the nervous system and normal energy metabolism. Vitamin B12 also helps reduce tiredness and fatigue and normal red blood cell formation.

INSTRUCTIONS FOR USE: Stir 1 g daily in warm water, coffee or a smoothie.
MORE INFORMATION: Dietary supplements are not a substitute for a varied and balanced diet and a healthy lifestyle. The recommended daily dose of 1 g must not be exceeded. Keep out of reach of small children.

INGREDIENTS: Wild harvested Borneo Tonkat Ali powder (Eurycoma longifolia) (Pasak Bumi), Vitamin B12.

 Average nutritional values
---------------------------------------------
                              per 1 g   NRV*

Vitamin B12       1.25 µg     50%
* % of reference quantity for adults