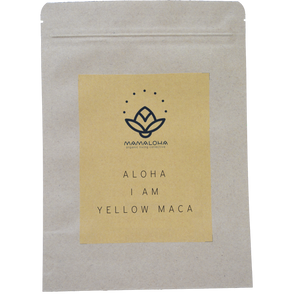 OUR YELLOW MACA ROOT

ORGANIC PERUVIAN ADAPTOGEN HERB 100g POUCH

Die Maca Wurzel - eines der mächtigsten und stärksten Heil-Kräuter, die der Menschheit bekannt sind - Die Peruvianische adabtogene Heilpflanze - auch Peruvianischer Ginseng genannt - wächst auf einer Höhe von über 4000 Metern im trockenen und harschen Klima der mineralreichen Hochplateaus der Peruvianischen Anden.
Maca wird wegen seiner reichen Energie seit Zeiten der Inkas verwendet. Wie alle anderen Adaptogene verringert die Maca Wurzel die Belastung unserer oft unterfunktionierenden Nebennieren. Adaptogene helfen uns im Allgemeinen beim Umgang mit körperlichem und geistigem Stress. Maca wird für seine überragenden hormonausgleichenden und hormonell wiederherstellenden Eigenschaften geschätzt und kann die Fruchtbarkeit steigern und die Libido stärken. Maca ist ein Stimmungsaufheller, steigert das allgemeine Energieniveau und fördert die Ausdauer. Ideal vor dem Sport! Ideal zum Bekämpfen von chronischer Müdigkeit. MUCHAS GRACIAS, NAMASTE & ALOHA FROM MAMALOHA!

Maca Root is one of the most powerful and potent herbs known to mankind - The Peruvian adabtogen herb belongs to the mustard family and grows traditionally on an altitude of above 4000 meters (13 000 feet) in the dry and harhsh climate of the mineral-rich high plateaus of the Peruvian Andes mountains.
Maca has been used for its rich energy since thousands of years, traced back in history to the Incas. Like all other adaptogens: Maca Root decreases stress on our often under-functioning adrenal glands. Adaptogens generally help us to deal with physical and mental stress. Maca is cherished for its outstaning hormone-balancing and hormonal-restoring properties and may increase fertility, boost and restore libido. Maca increases our mood, boost general energy levels, stamina and endurance: It works great before exercise! Maca is used to promote adrenal health, fight low energy, chronic fatigue and chronic adrenal fatigue. MUCHAS GRACIAS, NAMASTE & ALOHA FROM MAMALOHA!
DEUTSCH: Maca ist ein Nahrungsergänzungsmittel mit Vitamin B12, es trägt zu einer normalen Funktion des Immunsystems bei. Es trägt zu einer normalen Funktion des Nervensystems und einem normalen Energiestoffwechsel bei. Ausserdem trägt Vitamin B12 zur Verringerung von Müdigkeit und Ermüdung und einer normalen Bildung von roten Blutkörperchen bei.

GEBRAUCHSANLEITUNG:
Täglich 1 g morgens in warmes Wasser, Kaffee oder einen Smoothie einrühren.

WEITERE HINWEISE: Nahrungsergänzungsmittel dienen nicht als Ersatz für eine abwechslungsreiche und ausgewogene Ernährung sowie gesunde Lebensweise. Die empfohlene Tagesdosis von 1 g darf nicht überschritten werden. Ausserhalb der Reichweite von kleinen Kindern aufbewahren.

ZUTATEN:  ORGANIC MACA PULVER (LEPIDIUM MEYENII WURZEL EXTRAKT), Vitamin B12.

Durchschnittliche Nährwerte           
---------------------------------------------          
                            pro 1 g   NRV*        

Vitamin B12      1.25 µg     50%
* % der Referenzmenge für Erwachsene
100g Beutel.

ENGLISH: Maca is a dietary supplement with Vitamin B 12,  it contributes to the normal functioning of the immune system. It contributes to the normal functioning of the nervous system and normal energy metabolism. Vitamin B12 also helps reduce tiredness and fatigue and normal red blood cell formation.

INSTRUCTIONS FOR USE: Stir 1 g daily in warm water, coffee or a smoothie.
MORE INFORMATION: Dietary supplements are not a substitute for a varied and balanced diet and a healthy lifestyle. The recommended daily dose of 1 g must not be exceeded. Keep out of reach of small children.

INGREDIENTS: ORGANIC MACA POWDER (LEPIDIUM MEYENII ROOT EXTRACT), Vitamin B12.

 Average nutritional values
---------------------------------------------
                              per 1 g   NRV*

Vitamin B12       1.25 µg     50%
* % of reference quantity for adults

100g pouch.